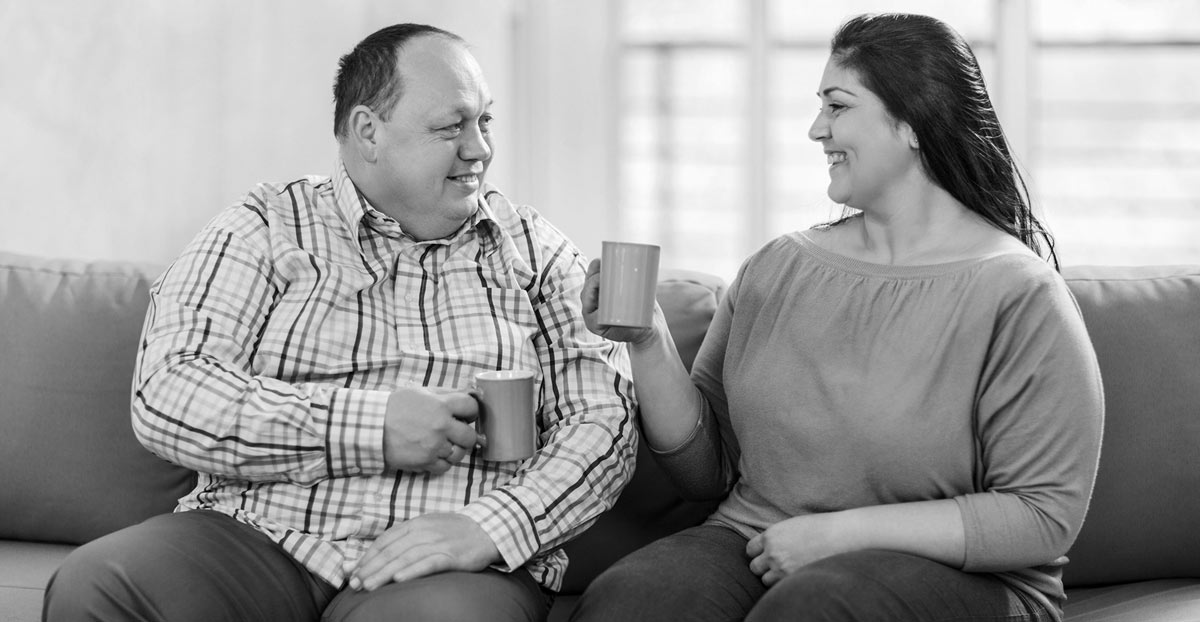 "I have now lost 16.2kg since I have met with yourself and the doctor. Metformin def helped kickstart things with my PCOS and also your great advice going low GI. I know I only visited you once, but it made a huge difference so Thank you!"
Ginette has been the key to ensuring my ongoing weight loss journey has been a positive and enduring one. She has given me the tools to set realistic expectations of myself, manage unexpected challenges and sustain my motivation. Ginette creates a warm, friendly and judgment-free environment which has allowed me to be more accepting of myself and my personal circumstances. Ginette's holistic approach has facilitated real change in my life as it is tailored to me and my body, which has resulted in me making progress towards my goals in a calm and sensible manner. I am confident that my work with Ginette has assisted me greatly in building a solid foundation for me to achieve enduring health for my body and mind.
When I was told by my GP at the end of 2011 that I had PCOS, I resigned myself to the thought that there was nothing I could do about it. That, maybe, if I didn't think about it, it would go away on its own. From then on, I found myself letting go. The number on the scale grew bigger and bigger and as it grew, so did my negative self-image. In August 2013- after gaining almost 25kgs- I decided I had to regain control of my situation. After seeing a fantastic specialist and personal trainer, I was referred to Ginette and after just one conversation, I was inspired. Her knowledge and amazing support has put me on a path I never thought I'd find myself on, one that has me actively combating my PCOS- now insulin resistance- and negative self-image. It's a constant battle but with 10kgs down, I am more confident than ever. Thank you so much Ginette, you have helped me incredibly and I look forward to not only dropping the inches but also living a long and healthy life
Having just been diagnosed with PCOS and falling pregnant only a short time later I was extremely keen to better my health and nutrition. I made an appointment with Ginette a short time later and it was just so fabulous to firstly talk to someone about my worries and concerns regarding my current health and the impact it could have on my baby. Ginette then introduced me to a low GI meal plan which I was extremely excited about. We discussed various recipes, healthy snack options and much more. I left our meeting feeling educated, inspired and motivated and put all of her ideas into practice immediately. During my first trimester I lost 4.5 kilos and now at 20 weeks I have kept my weight gain to a minimum. I am so grateful that I have had the opportunity to spend some time with Ginette and believe she has played a huge part in making my first pregnancy a very positive and enjoyable one.
"Most surprisingly has been the positive flow on effects for the rest of the family – most of my immediate family have started exercising and eating more healthy, and funnily enough as has my extended family and in-laws since I started both my training and low GI diet. I wanted to thank you for your assistance with regard to introducing me to the Low GI diet, which has attributed greatly in getting me to a healthy weight in order to control my PCOS.
I remember when I first came to see you I honestly didn't believe that changing the way I ate and going on the Metformin medication was going to make any sort of difference, let alone such a dramatic one. Portion control you have taught me has been the key and I smile these days because my life is looking so much brighter and I am so much happier with the way I look and feel. I owe so much of it to you. The food pictures you showed me were very confronting, but sometimes you need a bit of honesty to get some results that are worth talking about.
I was recently diagnosed with insulin resistance and suspected PCOS, and referred to Ginette for weight loss assistance. These two medical conditions were certainly the "wake up call" I needed to take control of my weight and eating habits. I had tried many a diet unsuccessfully over the past 10 years which had gradually resulted in my weight creeping above a healthy range. Ginette provided me with insight into the best food choices for long-term health and weight management. I have seen great results over the past 3 months and have changed my thinking regarding my approach to food and eating. No longer do I see a "sometimes food" as being a trigger for failure, I simply enjoy it when the occasion arises and get back on track with my next food choice. Ginette's approach equips you with the tools and knowledge to not only lose weight, but maintain a healthy way of eating that is sustainable for life. Thanks Ginette, I am feeling fit and healthy and owe a lot of my success to you!"Most surprisingly has been the positive flow on effects for the rest of the family – most of my immediate family have started exercising and eating more healthy, and funnily enough as has my extended family and in-laws since I started both my training and low GI diet. I wanted to thank you for your assistance with regard to introducing me to the Low GI diet, which has attributed greatly in getting me to a healthy weight in order to control my PCOS.
My daughter was 7 months pregnant when referred to Ginette to manage her insulin resistance and PCOS. From the first moment we met Ginette we were so impressed with her warmth and genuine interest in our individual needs. Our initial consult was for my daughter, Ginette helped her to follow a low GI eating plan during the later months of pregnancy which no doubt helped her to deliver a beautiful baby within a perfect weight range. After starting the plan, my daughter's weight steadied and she only gained a total of 9kg during the pregnancy and now has the tools to maintain a healthy eating plan, not only for herself but for her husband and gorgeous baby daughter. After witnessing the brilliant results my daughter achieved with Ginette's guidance and knowledge; I decided to seek her help in managing my own weight. So at age 59 and after struggling with my weight for the past 15 years I made the best decision in a long time. In one consultation, Ginette was able to provide me with such clear guidelines for low GI foods and specific literature to read, it took away the confusion often associated with weight loss choices. I was able to go straight to the supermarket and choose items with confidence. I appreciated the detail Ginette went into to clearly show me the types of food to buy; this made it so much easier to start the program. In the past I have always felt overwhelmed by the long list of options in a program which still required me to somehow put it all together. Given my hectic schedule, and the fact that cooking is not one of my stronger points, any program that required me to go home and work out what to eat was doomed to fail! Ginette removed the pressure and made the program so simple and easy to implement and adopt. It is a slow process but Ginette has inspired the confidence and support both my daughter and I needed to gain the results we were looking for. We will be forever grateful to Ginette for helping us to lead healthy lives which we can share with our entire family, especially my beautiful granddaughter, thank you from the bottom of my heart.
I have insulin resistance and hypertension and have had a life-long battle with my weight. About 18 months ago, my partner told me how worried she was about my health and how distressed she was that I might not live to see our kids grow up. I had lost weight before, but had never been able to keep it all off and, to be honest, I felt quite hopeless about it. For the sake of my family I decided it was time to do something about it and that drove me to seek out Ginette. She has helped me to lose a significant amount of weight and so far I have managed to keep most of it off. I have also been able to reduce the amount of medication I am on and feel generally more healthy and energetic. While it was relatively easy to lose the weight to begin with, the maintenance aspect remains very challenging. I have gone backwards a little, but Ginette has really helped me keep at it despite the setbacks and difficulties that in the past would have seen me give up. I know I have done the day-to-day work, but I do not think I could have done it without Ginette's experience and kind support.
My name in Andy and I have suffered with mild hypertension and high cholesterol for approx. 4 years. I was first referred to Ginette by my doctor in August 2010 after a very serious reaction to a new medication. At this point I wanted to find a healthier way to control my condition and REALLY wanted to stop taking medication. Ginette instantly modified my diet and help educate me in the foods that i needed to eat and avoid. It's difficult at first, but after a while it becomes second nature. Its now December 2010, i have lost over 10 kilos, feel fitter than i have in yyrrrrrrssss, have buckets of energy and best of all….. I am taking no medication and both my blood pressure and cholesterol are PERFECT… Thank you Ginette, you've changed my life. I mean every word
After referral by my GP, I contacted Ginette in August this year. After an initial consultation to discuss objectives I agreed to 6 sessions, beginning with the first 4 on a weekly basis then the 5th, 2 weeks after and the final 6 weeks later. While the first line of instructions seemed daunting, Ginette guided me through the good and bad on a weekly basis to a sustainable dietary lifestyle where you could enjoy treats occasionally with out permanent disruption or sugar/fat blow out down the track. With diet and exercise, since August I have lost a total of 14kgs, over a sustained period, 3 kgs of which actually occurred while on holidays with mates in the US. The best thing is my greatest concern was proven wrong, I still enjoy life and feel great.
I am a 49 year old obese woman with type 2 diabetes and depression. OMG! Ginette is remarkably tolerant about my feelings of failure, and each week I am encouraged to notice the small, positive changes. Since seeing Ginette for some months, my blood sugar levels are the best they have ever been, I have reduced my dose of antidepressants by one third, I am a size smaller, and a bit stronger, fitter and happier. I exercise regularly now, including some weight lifting, and Jim said my bottom is firmer! I highly recommend Ginette for regular, ongoing support. 
Thanks Ginette
Ginette's approach to weight loss is one of the most balanced, intelligent and individual I have ever come across, and I have been trying to lose weight for a long time! Not only is her advice brilliant, her support unending, her encouragement positive, the best thing about Ginette is that she listens! I feel like I can always be totally honest with her and she will accept me and work with any of the little quirks and preferences I have whilst ALWAYS making me feel fantastic, no matter what. Working with Ginette makes the task of losing weight so much easier and I personally have learned to love my body no matter what the size and focus on the health aspect more than what the scales say.
I have known Ginette for many years but only last year consulted her on a professional basis in relation to managing my diet & integrating it with a busy lifestyle. My goal was to try & shed some weight & keep it off – but still maintain or increase my energy levels. Ginette has a realistic perspective on lifestyle & came up with some creative solutions & made me think twice about some of the choices I was making around what I ate, how much & when. It is a gradual process that does not necessarily deliver instant results – but it does deliver long term change that you know makes a difference. I am now a fair bit healthier, have reduced the portion amounts I am eating & feel a whole lot better for it!
My weight loss journey has been a long and challenging one. With Ginette there to guide and support me, not only has it been more successful but also more fun! Ginette has a great wealth of knowledge and information which she tailors to each person to give them the best possible chance at achieving their goals. Her enthusiasm and motivation are contagious and her thoughtfulness and caring have helped me a lot. I would highly recommend Ginette to anyone wanting to undertake such a journey.
Ginette's approach to weight loss is the best I've come across. Her encouragement and support helped me to lose weight, something I had never been able to do before despite years of trying. She tailors the program to your individual needs and goals. I lost 10kgs in 10 months while still eating chocolate most days!! (Careful though, think what I could have lost if I had gone that one step further!) Ginette helped me to see what was possible, and helped me to have confidence in myself, that I can do this. So even if I fall off the bandwagon, I now have the tools to help me get back on. I cannot recommend her more highly if I tried.
I'm really enjoying my program and consultant Ginette. I'm feeling very motivated. Thanks.
Ginette is the most fantastic, motivating, caring and genuine coach. Every session I have with her, I walk away blown away by her genuine interest and care in my progress…..
I was referred to Ginette about 12 months by a good friend who had heard complimentary reports about her and her methods. In the area in which Ginette works, and allowing for the fact that each one of us must make different decisions regarding their weight and general health, I have not previously met anyone to match her overall knowledge and caring attitude. She takes a genuine interest in each of her clients' wellbeing, and I have no hesitation in recommending her to those who are serious in improving their health.
Ginette's nutrition ideas have been a wonderful help. As a result of my work, I suffered from jet lag, fatigue and low energy levels. I would often eat take away meals on the run that had a high salt, sugar and fat content. Ginette encouraged me to eat more regularly and more often, reducing the size of my meals and eliminating my "two giant meals a day" habit. She also advised increasing the protein content and reducing the salt and sugar. Incorporating foods like nuts and lentils into my diet, she gave me great ideas about how to mix different foods to provide the right nutritional balance with great taste! My energy levels have improved markedly and I feel that I am nurturing my body and mind in the process. I would happily recommend Ginette to you if you are keen to improve you health and want to enjoy the process at the same time!